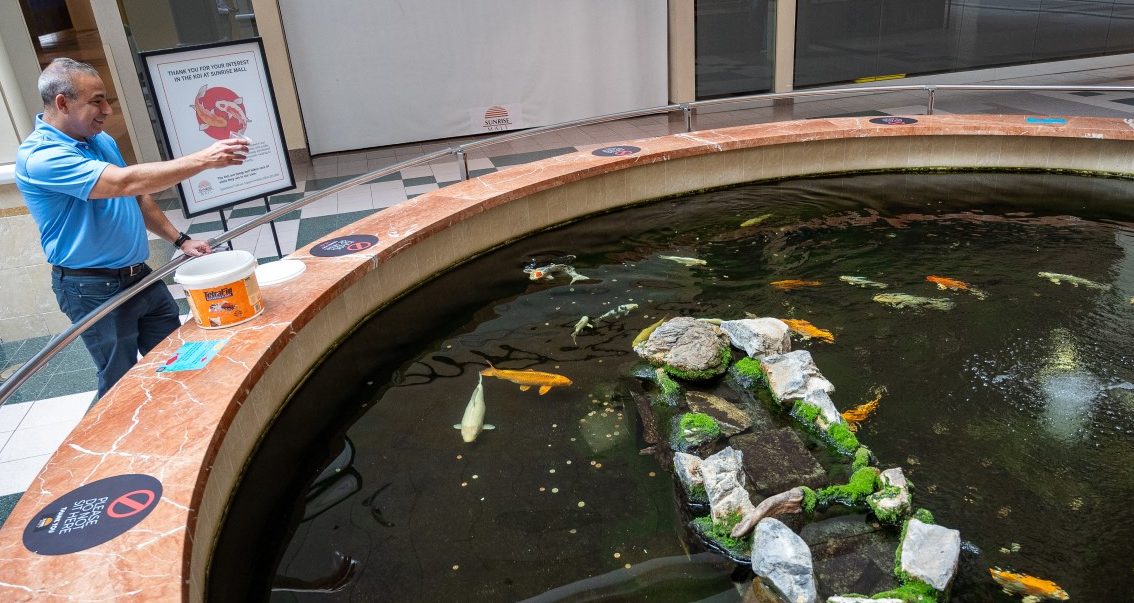 After extensive discussions with professional aquarists, half of the koi population has already been relocated to carefully vetted area schools, including Nassau BOCES (Carman Road School) and Oyster Bay High School, both of which have programs that incorporate animal care including koi ponds as part of their curriculum. 
The remaining koi will be transported next month to the Long Island Aquarium, where staff are preparing a curated environment for the fish and is currently home to several varieties of koi where visitors can feed the fish for a nominal fee. 
Developed in the 1970s by Muss-Tankoos Corporation, the Sunrise Mall was once home to an aviary with several birds, including a peacock and parrot. The shopping complex also had two duck ponds. 
The koi pond at the mall was built in 1996 at the direction of Jeffrey Riccio, the mall's former director of operations and current vice president of property management for RIPCO Real Estate. 
"We used to feed goldfish to the ducks, but the ducks were dirty and would fly around the mall, so I thought we should give a koi pond a try instead," Riccio said. "It became so popular that I spent a good amount of time talking to children about the fish. We created a marketing event called "Feed the Fish at Sunrise Mall," which became a weekly happening on Wednesday nights in the late 1990s. Sbarro's, which had been a mall tenant, supplied a macaroni treat that we used to feed the fish." 
Over the years, Riccio said he's checked in with the koi to see that they were getting along swimmingly. 
"They've grown tremendously and have been well taken care of by the current mall staff," he said. "I'm happy they'll be going to good homes." 
When it was announced this spring that the mall owners were seeking to find new homes for the fish, they were inundated with requests from pet shops and homeowners with koi ponds in their backyards. While the remaining koi continue to be under professional care during the transition, the Sunrise Mall management team has provided a hotline (551-321-1081) so that the hundreds of questions regarding the future of the koi could be addressed. 
"We have no doubt that the environment and trained staff at the aquarium and schools will provide the ideal atmosphere for the fish to live long, safe, and healthy lives," said Urban Edge Properties Vice President Coleen Conklin. 
By: David Winzelberg September 1, 2022
Image: Urban Edge Vice President Joseph DeGiorgio provides the koi with their feeding while waiting for safe transport to new homes. Courtesy of Long Island Business News.